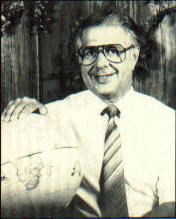 John Booko, Sr. is an American born Assyrian whose parents were born in Northern Iraq; he speaks the Assyrian language. Reverend Booko holds a Bachelor of Theology degree from Northern Baptist Seminary in Oakbrook, Illinois, and a Master of Arts degree from Northwestern University Graduate School in Evanston, lllinois.
He is an ordained Baptist minister having served in Baptist Churches for 24 years. In 1975 he founded the Three Rivers Christian Fellowship, an interdenominational Church, where he serves the Lord with his son, Paul. He and his wife, Burnell, have resided in Three Rivers, Michigan since 1963. They have four children and fourteen grandchildren.
John also serves as Regional Representative for "lntercessors for America," a ministry encouraging effective prayer and fasting for the church, our nation, and their leaders. His Trans/Local ministry is to build unity among pastors and to bless and encourage other churches and ministries.
In May of 1983, he travelled to Israel at the invitation of the government's Herut Party and met with Prime Minister, Menachem Begin in his office in Jerusalem.
In April of 1985, he was invited to Egypt by the Egyptian Foundation. In Cairo, Egypt, he visited with Egyptian President Hosni Mubarak in his Presidential Palace, and prayed with him.