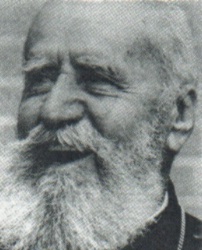 Rev. Kako was born near Julamerk, Hakkiari, on October 1909. After 1915, he followed the track of the Assyrian nation through Iran to Baquba. In 1924 he enrolled in the famous Assyrian school of Rev. Yousip in Mosul. It was there that he learned printing.
After the 1933 events, he moved to Syria where he married Yuliya Deacon Dinkha. It was in 1953 that Kako was ordained a deacon by Metropolitan Mar Yousip in Habbaniya. Two years later he was sent to Trichur, India, to teach in clergy school. In 1958, Deacon Kako returned to Iraq and became a teacher in The Assyrian School in Kirkuk. A year later he was ordained a priest by Bishop Mar Eshou Sargis for the Church of Mar Zia in Baghdad.
In 1965, he was elevated to the rank of Archdeacon by Metropolitan Mar Yousip. Six years later he took up new position as a teacher for the Clergy School in Baghdad. It is in 1974 that he left Iraq to live with his son in London. Two years later he moved to Canada and still later he took up position as priest in the church in Flint, Michigan. In 1979, Archdeacon Kako came to Chicago to teach language and theology. It was there that he passed away on July 30, 1990.
Voice From the East, Chicago